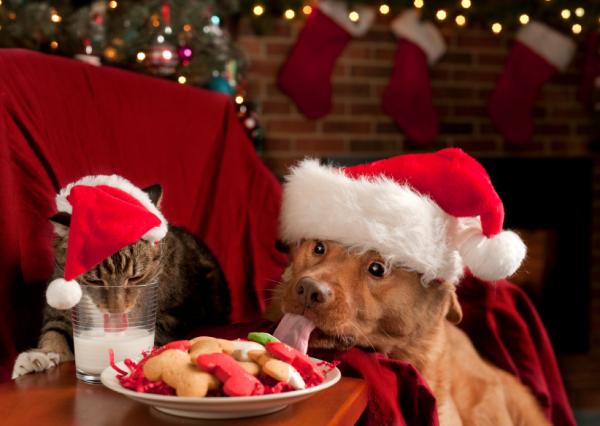 This year, give the gift of energy efficiency. Whether you're visiting family, decorating the brightest house on the block, or staying in with festive movies and treats, here are some ways to save energy during the holiday season.
Decorations
Don't worry, we won't tell you to nix your holiday light show—at least, not entirely. There are a lot of easy steps you can take to make your festive displays more energy efficient. 
Switch to LED lights. Outside or on your tree, LED string lights will shine bringer and last ten times longer than outdated incandescent lights. Worried about the bright white normally associated with LEDs? LED lights come in a variety of colors, including a "warm white" for that old-time holiday glow. LEDs are also safer than incandescent lights because they operate at much lower temperatures. They're less expensive, too—using a LED lamp over the holidays will cost you an estimated $0.45, compared to $5 for mini incandescent string lights and $75 for large incandescent string lights!
Set a timer. Your lights don't need to be on all night! Putting your decorations on a timer will save money and electricity, while conserving your lightbulbs for the times of day when they're most visible.
Use a power strip. Did you know that lights and other electronic decorations plugged directly into your wall may use small amounts of energy even when they're turned off? Plugging them into a power strip and then turning the strip off helps avoid energy leakage—and makes it easier to turn all your decorations on and off at once.
Turn off ambient lights. Chances are, you don't need to have both your Christmas tree lights and your house lights on. Adjust your indoor lighting to account for your decor, especially when you have glowing decorations.
Decorate without electricity! There are many ways to decorate that require no electricity at all. Reflective decorations like tinsel and mirrors can glimmer just as brightly as lightbulbs. The holidays are also a great time to get crafty with your family and make homemade decorations like colorful wreaths, paper chains, and popcorn strings.
Gifts
It's the season of giving, and it's easier than ever to make your giving energy efficient. Here are some tips and tricks for gifts your loved ones and the planet will appreciate.
Re-use and re-gift. The most energy-efficient way to buy a gift is not to buy one at all. Consider regifting old gifts to save money, reduce the energy used in manufacturing, and declutter your home. Alternatively, hitting up local thrift stores for your gift shopping is eco- and budget friendly, and who isn't trying to save money during the holidays? One caveat – before gifting used or second-hand appliances or electronics, make sure they aren't energy hogs. Many new products incorporate the latest advances in energy efficiency, reducing costs for your friends and family.
Buy non-electric gifts. Give a present that doesn't use require electricity, like sports equipment, art supplies, or other non-electric toys. If you are buying gifts that require batteries, buy rechargeable batteries and energy-efficient chargers. If you are buying electronics, be sure to seek out energy-efficient ones wherever possible.
Give clutter-free or consumable gifts. Some of the best gifts aren't physical objects—gifts such as a gym membership, a newspaper or magazine subscription, a streaming service, or tickets to a film or concert will please your loved ones while saving energy and reducing clutter. Edible gifts like baked goods, festive treats, and holiday beverages—homemade or not—are hits with any crowd, especially when packed in reusable or recyclable packaging.
Wrap responsibly. Re-use giftwrap, ribbon, and gift bags to reduce holiday waste. Consider using cloth ribbon year after year, wrapping gifts in newspaper, or forgoing paper wrapping for reusable containers.
Recycle. Use recyclable goods whenever possible, from containers to wrappings to holiday cards.
Travel
There's no place like home for the holidays. Here are some ways to help you improve your energy efficiency on your way over the river and through the woods.
Plan your travel ahead of time. Not only is planning ahead cheaper and less stressful, it also gives you more flexibility to explore energy-efficient options. Coordinate with friends or relatives to carpool, or look into public transit, buses, and trains.
Turn off your lights. Make sure all your lights—and decorations—are off before you head out to visit family or loved ones. This saves energy and increases the lifespan of your decorations!
Install a programmable thermostat for long trips so that you're not needlessly heating your home. Or consider lowering your thermostat while you're away to reduce your energy consumption. Learn more about programmable thermostats here.
Set your water heater to "low" or take advantage of vacation mode settings to reduce energy waste from one of the biggest energy guzzlers in the home.
Take advantage of programmable lights and other home electronic technology, such as apps that allow you to monitor your lighting, electricity use, and energy consumption from your phone.
Hosting
Are you hosting a holiday gathering? Learn more about how to cook an energy-efficient meal in our Thanksgiving post here and read below for more energy-saving tips and tricks!
Turn down your heat. Having guests over means an increase in body heat, so turn down your thermostat in preparation for your gathering. Want to be extra energy efficient? Host an ugly sweater party so you can turn your heat down even further!
Encourage your guests to carpool—this will save energy and driveway space!
If you're hosting a gift exchange or white elephant, encourage your guests to shop efficiently using the tips above—or consider making giving white elephant a thrifting theme!
Happy holidays!